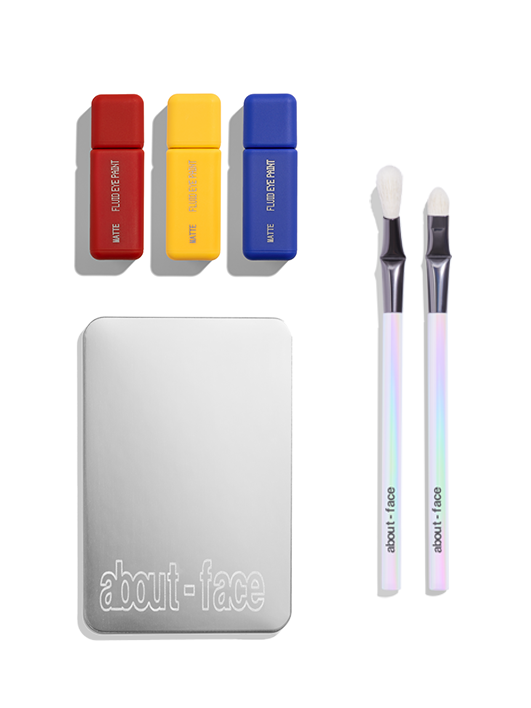 brushes + palette + primaries
Bundle: PRIMARIES MINIS, PALETTE + BRUSH SET
4.5 ml / 0.15 fl oz each
Description

Save 20%

THIS IS: A 3-piece eye bundle that includes 3 primary-colored eye paints in scaled-down versions of our award-winning Matte Fluid Eye Paint™, Blending Palette, and 2-Piece Brush Set.

FEATURING: 

MATTE FLUID EYE PAINT™: A powerful, one-swipe punch of liquid eye color that delivers bold, buildable pigment, for a no-budge, no-smudge finish.

Scream Of Consciousness Primary Red

It's Blitz  Semi-Sheer Primary Yellow

No Queen Blues Primary Blue

BLENDING PALETTE: A mirrored blending palette to mix, blend + apply Matte Fluid Eye Paints like a pro. Plus, it doubles as a mirror, so you can finesse your look as you go… Or throw in your bag for touch-ups later on.

BRUSH SET: A 2-piece set of cruelty-free, high-performance brushes with densely packed, velvety soft fibers that allow for intense and flawless pigment application.

P.S.: All about-face products are 100% vegan and cleanly-formulated.
How-To

LIP GLOSS: Swipe onto lips, no mirror required, for soft shine and color.

FRACTAL DUST: Apply to skin with fingertips or the Fractal Brush Set and dab or blend for buildable shimmer.

SHADOWSTICK: As a versatile eye product, Shadowsticks can easily create as thin or as thick of lines the artist desires. Use the built-in shaper to create a thin eyeliner look, or fully fill in the eyelid with formula + blend for a smudged look.

LINE ARTIST: Start at the inner corner of the eye, placing the eyeliner pencil as close to the lash line as possible. Glide across lash line for a precise line, or blend out (prior to formula drying) for a smokier look.